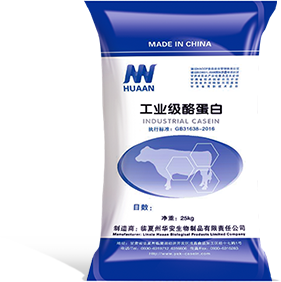 Industrial Casein
Description:Industrial casein, also known as replication casein, is a purified yak casein made by high-tech biotechnology. It cannot be replaced by other synthetic materials. It has excellent properties such as adhesion, film-forming, brightness, emulsification and stability. It is an ideal green adhesive raw material.
Moisture %
≤12.0
Protein(dry base) %
≥90.0
Fat%
≤2.5
Ash content %
≤2.0
Acidity T°
≤45
Color
White or milky white
Insoluble matter
≤0.1
Viscosity
800-5000mpa.s
Other information
Functional features:
This product is non crystalline and non hygroscopic. It is slightly soluble in water and organic solvents at room temperature, soluble in dilute alkali and concentrated acid, and can absorb water.

Packing: plastic woven bag or composite kraft paper bag with polyethylene inner membrane, net weight 25 kg
Storage: store in cool and dry conditions to prevent mildew and moisture
Transportation: Highway and railway
Shelf life: 12 months from the date of production under appropriate storage conditions

Range of application
Widely used in paper tube, cosmetics, leather industry, paint, pigment, paper industry, casein glue, adhesive, safety match, plastic processing, electrochemistry, textile industry, special cement and other industries.

Paper industry: sizing agent, polishing agent, adhesive, etc;
Leather industry: leather and artificial leather tanning agents, adhesives, blended fiber finishing agents;
Coatings: waterproof, fireproof, high-strength, decorative architectural coatings, high hardness layer anti (salt) acid coatings used in the manufacture and use of iron and steel equipment, etc;
Plastic processing: processing aids for various decorative materials.